Hayes Ford Body Shop

Providing excellent service and peace of mind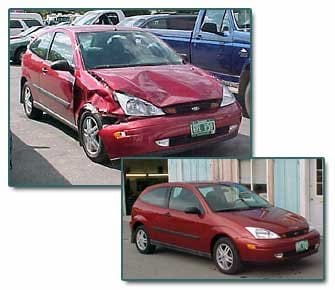 Every person in our facility from the receptionist, to the spray technician, to the parts manager, are all dedicated to one thing: providing a quality service and product for you our client.
Hayes Ford treats each vehicle as if it were our own. The reason is simple. If you are happy with the results, you'll come back the next time you need our services.
Please Email our Body Shop
Hayes Ford provides:
A Full Service Body Shop with 2 computerized frame machines, computer paint matching down draft and bake paint booth.
Quality Repairs
Factory-Trained Technicians
24 hr Flatbed Towing
Lifetime Warranty
New Car Rental Department
Precision Paint Work
At the Hayes Ford Body Shop no job is too big or to small
Customer Statisfaction Guaranteed
A reliable facility should be clean, safe and stocked with quality repair equipment. The Hayes Ford Body Shop has invested in the best. Our precision unibody frame equipment ensures you a perfect, factory-grade alignment. Our modern downdraft paint booth, computerized paint-mixing system and spraybake technology, allow us to accurately match the color and quality of your vehicle's factory finish.
The Hayes Ford Body Shop is the ONLY bodyshop in the Northeast Kingdom to offer the Genesis Computerized Laser Measuring System for frame and unibody repair on two chief frame machines.
The Hayes Ford Body Shop offers a written LIFETIME warranty on all workmanship and materials for as long as you own your vehicle.
Integrity is the difference between a car that performs like new and one that just looks like it. Though we meticulously restore your vehicle's orginal factory appearance, we are committed to delivering more than just a "cosmetic makeover." We will repair your vehicle so it once again meets factory specifications. Once the repairs are complete, you can be as confident of your vehicle's performance as you were the day you bought it.
When it's time to choose a repair facility to care for your car, it all comes down to a matter of trust. Having your vehicle damaged is unpleasant enough, without the additional worry of wondering whether the repair work will be accurate and reliable. Here at Hayes Ford, we want to give you the peace of mind that comes from knowing your vehicle is in capable hands, and the assurance that it will be completely restored to its orginal performance and beauty.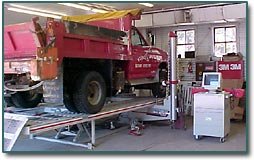 "State-of-the-Art" Repair Technicians
Our technicians are committed to quality and have the skills necessary to deliver just what they promise. Each one of our technicians has completed extensive training, and with hard-earned expertise in modern repair technology, each one is qualified to restore your vehicle to pre-accident condition.
Customer Service
Once you car is as good as new again, we want to make sure you are happy with the services performed. Each person who played a part in restoring your vehicle is dedicated to quality results.
Facts You Should Know:
Your insurance company wants your vehicle properly repaired and you to be completely satisfied with their claim service. You have specific rights and obligations that you should be aware of. Review you policy. Understand your rights.
If an agreement cannot be reached between your insurance company and the repair shop, your policy has an "Appraisal Clause" whereby an independent appraiser can be called in to help resolve the matter.
You are not required by law to get more than one estimate.
You may have the shop of your choice make the repairs. You are not required to use a shop selected by a claims adjuster. However, you are required by your policy to allow your insurance company a reasonable amount of time to inspect the damages prior to repairing them.
Only you, the owner, can authorize repairs on your vehicle.
Repair estimates will vary. A lower estimate may not include necessary things such as front or rear wheel alignments, re-aiming your headlamps, etc. It's your car, make sure it's repaired to your satisfication.
The vehicle is being repaired for YOU, the owner. You will be required to pay for the repairs upon completion. To avoid delays, it will be up to you to secure payment from your insurance company along with any necessary endorsements from lienholders.
Trust is not something that is just given to you,
but is something that you earn by giving 110%