Welcome to Our Parts Department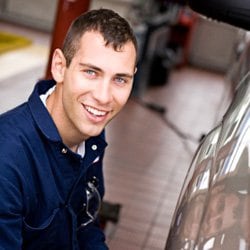 With Ford Parts, Newport Drivers Can Keep Their Car Running Like New
If your crossover, SUV or truck needs parts, Hayes Ford Inc. is your source. We carry all genuine Ford parts and have a team of experts here who can assist you in finding the right ones you need, whether it's to install via service or to fulfill your DIY car project. Our parts team is here to help and make sure you get the right parts you need.
Learn more about the perks of picking genuine Ford parts?
Now, there's plenty of auto parts stores around Vermont, so you might rightly wonder, "Why come to Hayes Ford Inc. when I could just go to my local shop for parts?" Well, unlike the generic parts you'll find for sale at other auto parts stores, our genuine Ford parts are backed by the Original Equipment Manufacturer, meaning they're the same components used to produce your crossover, SUV or truck in the first place. Our genuine Ford parts are guaranteed to fit your vehicle, so there's no need to fret over functionality ever again.
Our Team at Hayes Ford Inc. Can Help You Find the Right Parts
If you already know what kind of auto parts your crossover, SUV or truck needs, our team of Ford experts can help you find the right parts for the job. Fill out our online parts order form to let us know what you're looking for, and we'll be happy to find the right part for you. Not sure that you need? Direct your auto parts questions to our experts, and we'll be happy to help you find the right OEM parts for your next project.